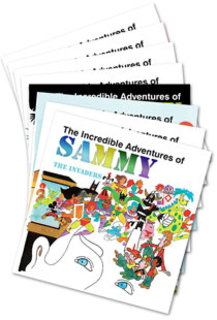 Product Details
Paperback: 44 Pages
Publisher: Signs Publishing
Published: 02 Oct 2015

The Incredible Adventures of Sammy series
Jean Breuil and Jacques Breuil
Throughout this series of eight volumes, Sammy and his crew go on incredible health adventures with Doctor Nature. Along the way, they all learn amazing things about how to live a healthier life. The Incredible Adventures of Sammy are great fun! The series includes:
- Sammy in Healthland
- Sammy and the Evil Island
- Sammy and the Secret of the Dolphins
- Sammy Rescues King Zack
- Sammy and the Return of My Healthydiet
- Sammy and the Invaders
- Sammy and Granny Blue's Tummyache
- Sammy and Granny Blue's Hair
Reviews
Our boys just love the Sammy books. The colourful illustrations and interesting stories are a fun way of teaching our kids to care for their health and the world they live in. We love the activity quizzes at the end of each story too!
By Liesa Carvill
---